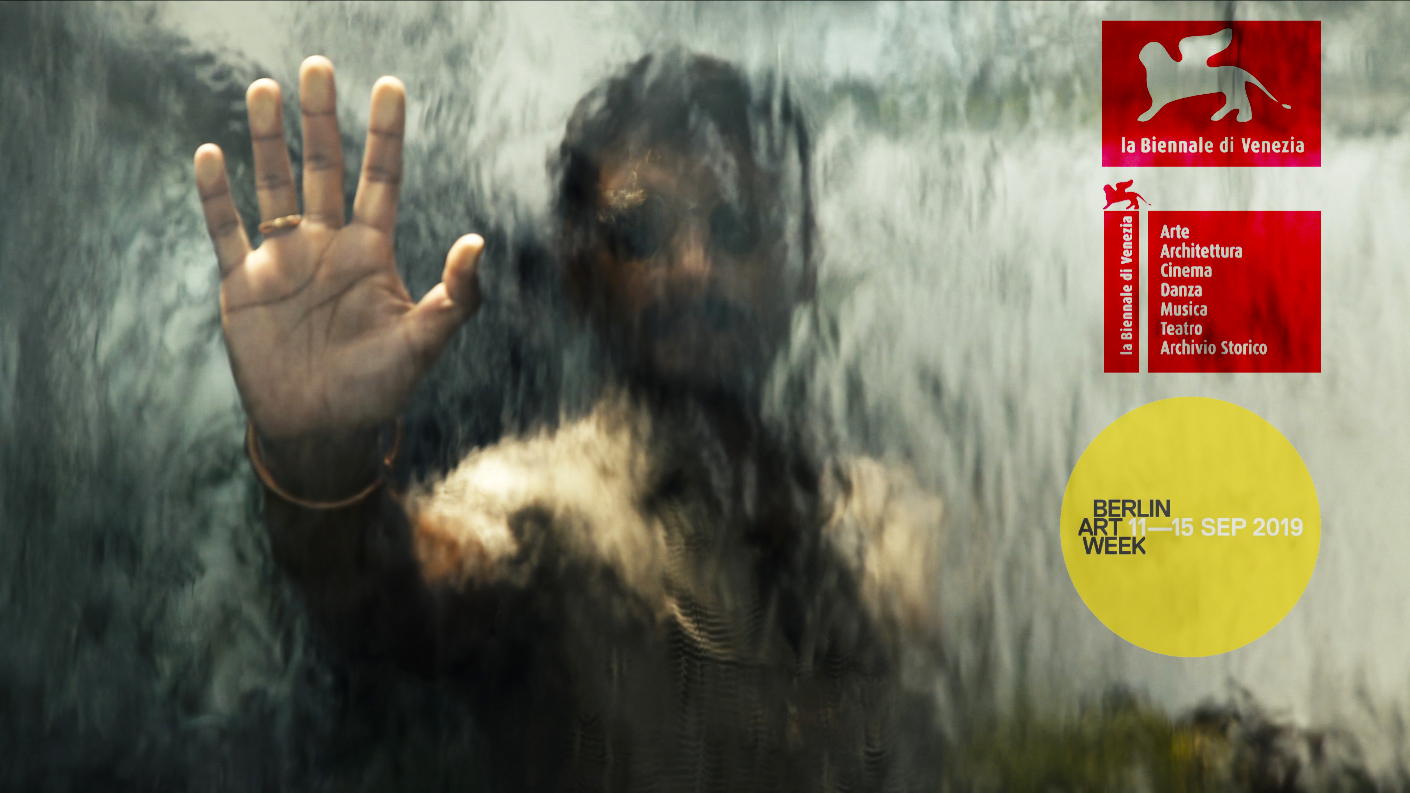 Digital projection on acrylic. Installation View: Time, Forward!, V–-A–-C Zattere.
Photo: Delfino Sisto Legnani and Marco Cappelletti.
BEING HUMAN & GROUND ZERO

by Christopher Kulendran Thomas & Annika Kuhlmann
commissioned by VAC Foundation for Venice Biennale 2019
GER, SRL, ITA
art film/ installation
30min loop
09/11/2019 BERLIN ART WEEK @ Schinkel Pavillon/ Berlin
MAY - OCT 2019 VENICE BIENNALE @ VAC Foundation Zattere
Ground Zero features original artworks by some of Sri Lanka's foremost young contemporary artists, purchased in the capital Colombo from one of the most influential new commercial galleries and presented at Schinkel Pavillon as a show-within-a-show. However, visitors will only glimpse this exhibition behind a film projection – a three-dimensional hypertext – that explores the interrelationship between contemporary art and human rights in an era of technological acceleration. The film Being Human (2019) features algorithmically synthesised characters – a well-known painter, a famous pop star and a young Tamil artist. Shot in Sri Lanka, the film takes us on an elliptical journey around the island, from the fallout of the Sri Lankan Civil War to the Colombo Art Biennale founded in its aftermath.

Christopher Kulendran Thomas' family is from a place that no longer exists. 10 years ago, in the summer of 2009, the Tamil homeland of Eelam – in what is now the North and East of Sri Lanka – was wiped out by the Sri Lankan army. Born through a neo-Marxist revolution, Eelam had been self-governed as an autonomous state for almost 30 years. However, following attacks on the United States on September 11th 2001, revolutionary movements around the world that challenged national sovereignty were relabelled as terrorists. Limited by the geopolitical interests of its member states, the United Nations failed to prevent the annihilation of Eelam. Curiously, in the months following that violence (and with the economic liberalisation that followed), the first white cube commercial galleries opened on the island, representing a generation of artists influenced by the Western canon encountered online. Soon, a new market for contemporary art emerged in Sri Lanka.

Developed in collaboration with Annika Kuhlmann, Ground Zero is Christopher Kulendran Thomas' first institutional solo exhibition in Berlin. Traversing documentary and fiction, it reflects upon issues of individual and collective sovereignty and authenticity, asking what it means to be 'human' when machines are able to synthesize human understanding ever more convincingly. "Around the world, the juridical framework of human rights has been leveraged not only to protect the oppressed and disenfranchised but also to justify the imperial ambitions of the nation states by which human rights are enforced. Perhaps though, the problem is not with the concept of human rights but with the very category of 'human' itself." (Christopher Kulendran Thomas)